Different Faux Wood Plantation Shutters In Hartford
While there are plenty of faux wood plantation shutters on the market in Hartford, they don't have the same quality. While some faux wood coverings will last forever without chipping, warping, or fading, other faux wood shutters will begin to wear down in just a few years.
It may be difficult to figure out what's best about the different faux wood plantation shutters. But after you learn about the different varieties of faux wood, it will be easier to figure out which interior shutter is built to last.
The following list examines the different varieties of faux wood shutters in Hartford and orders them from the least ideal to the most durable and stylish:
Vinyl Shutters:
Some plantation shutters that use vinyl show themselves as faux wood. But don't fall for it, vinyl should not be considered faux wood. Vinyl's plastic look and slick finish is tough to match to a your decor, unlike quality faux wood or basswood shutters. These treatments may be one of the most inexpensive plantation shutter products available, but they also are the most insubstantial of the non-wood treatments.
Vinyl can also be affected by heat. It's not abnormal to see vinyl plantation shutters melt or discolor due to sunlight exposure. Because of their practice of warping or splitting and their poor insular qualities, vinyl shutters don't grant much energy-efficiency to your home -- especially if the louvers are hollow.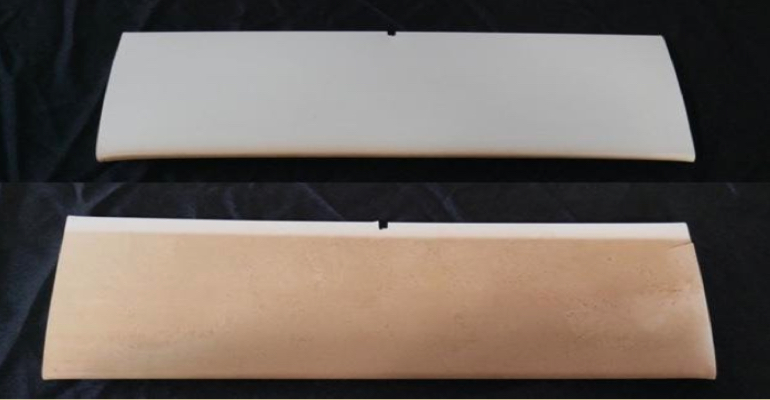 Benefits:

Lowest cost of the non-wood plantation shutters.

Drawbacks:

Appears plastic; frail materials; hollow louvers; low energy efficiency; will often warp, chip or discolor.
Synthetic Wrapped Product:
A step up from vinyl shutters are synthetic plantation shutters. These treatments are comprised of pressed wood, wood chip materials, or glued MDF, and then covered with a synthetic, vinyl, or plastic coating. The shutters are heavier and can look much more like a traditional wood plantation shutter than their less durable counterparts.
Unfortunately, synthetic wrapped shutters have plenty of cons. The pressed material under the outer layer can be extremely permeable, leaving the shutter sensitive to humidity and moisture. It's commonplace to see a warped or splintered louver or learn that the vinyl wrapping has chipped or peeled away. Also, wrapped shutters cannot be custom-fitted for odd shaped windows like arches or ovals.
Benefits:

Heavier than vinyl shutters; might resemble real wood.

Drawbacks:

Not great for high humidity or high moisture areas. Will absorb moisture and humidity. Aren't moisture resistant; wrapping can chip away; warps or cracks easily; no specialty shapes.
Solid Extruded Faux Wood Shutters:
Plantation shutters constructed from solid extruded synthetic materials are more durable than most of the other non-wood plantation shutters. As the synthetic fibers permeate throughout the product, they form durable, solid louvers that are more protected from warping. You will also see that these shutters are more durable and will act much more like real wood plantation shutters. Solid extruded faux wood shutters also can be custom-fitted to fit every window shape and size -- even ovals.
But a solid extruded plantation shutter is only as good as its faux wood formula. Some formulas create a frail shutter, which can be broken during installation. If the mixture doesn't include a UV inhibitor, then the shutter will fade and yellow over time. Some manufacturers paint their products, which also invite chipping and yellowing over time.
Benefits:

More substantial product that works like a basswood plantation shutter.

Drawbacks:

Quality depends on the formulation of the faux wood composite.
The Most Durable Composite Faux Wood Shutter Is A Polywood® Shutter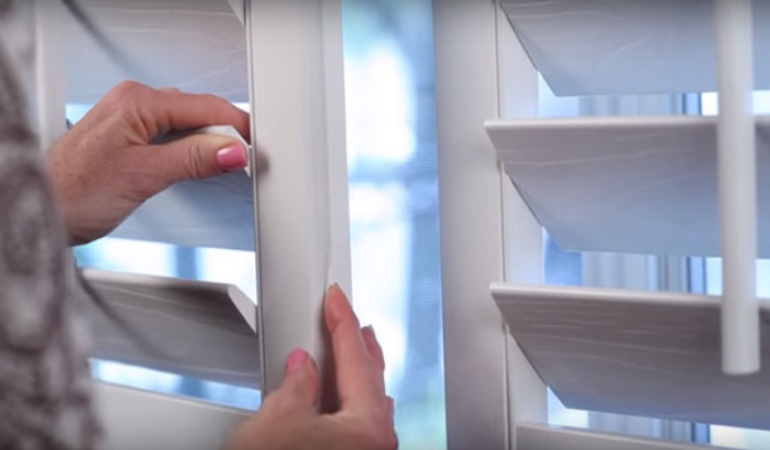 Polywood plantation shutters are constructed from an very durable extruded faux wood formula that will never warp, chip, crack, or fade. Its unique formula is like real wood, but with a material that withstands moisture. We mix in a UV inhibitor into the faux wood mixture so that the plantation shutter will keep looking like new for life. They are even simple to clean -- only use a duster for routine work, and a wet cloth for deeper cleaning.
Our Polywood shutters are also made to be the most energy-efficient window treatments on the market. In comparison, Polywood shutters are shown to be 70% more energy-efficient than regular wood, and 1600% more energy-efficient than aluminum blinds. And these plantation shutters come with a lifetime warranty. Those are features no other shutter company offers.
Benefits:

Lifetime warranty against splintering, fading, and warping; most energy-efficient plantation shutter around; looks great in any decor.

Drawbacks:

Higher cost than ineffective vinyl plantation shutters -- but worth it!
Call Sunburst Shutters Connecticut Today To Get Your Long-Lasting, Charming Polywood Plantation Shutters
When looking at the pros and cons of the numerous faux wood plantation shutters, you can definately tell that Polywood is superior to other faux woods. Our Sunburst Shutters Connecticut experts will be happy to show you the benefits of our Polywood shutters, and how they will enhance any room in the house. To get a free in-home consultation, call 860-266-5459 or fill out the form below today!