Five Suggestions To Create The Ideal Media Room In Hartford
Modern home entertainment equipment makes it simple to experience movies, gaming, and television in the comfort of your own media room. This is the rationale behind why Hartford families are increasingly creating home media rooms. But what should you have to produce an amazing home media room? From the best window treatments to soundproofing, explore these five suggestions for creating a media room in Hartford that the whole family will enjoy.
#1 Control Exterior Light With Louvered Shutters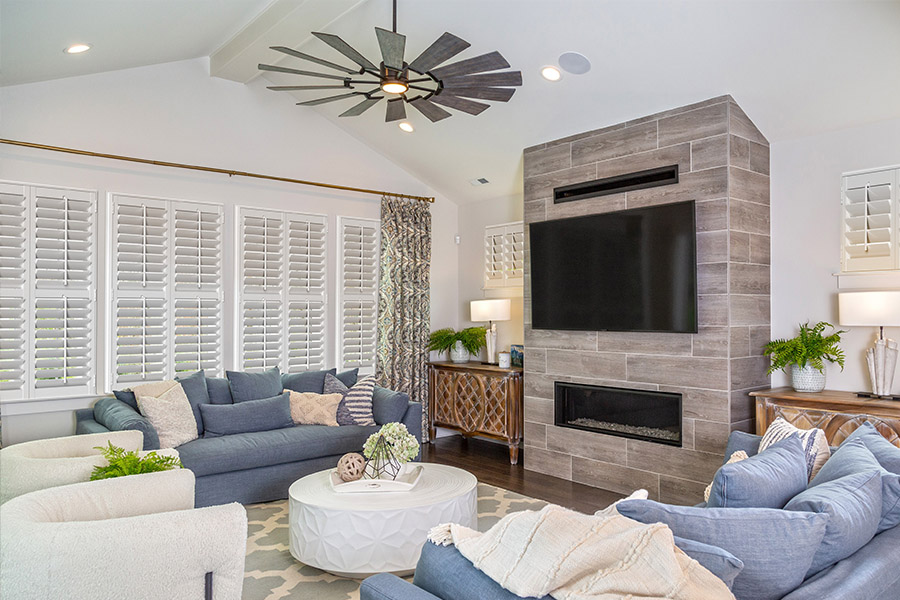 Not much can mess up a movie like sun glare on your TV. Adjustable interior lights are nice, but what do you do for exterior light? Use
interior shutters as window treatments
in your media room in Hartford for optimal control of sunlight. Louvered shutters have a framework that encompasses your window's frame to keep out light. These durable products also incorporate hinged panels with adaptable slats that close securely to provide nearly complete darkening. You might even tilt the louvers up or down to shift light off screens or your eyes without making your room appear to be a dark cave.
If you select Polywood® shutters, you'll achieve a higher degree of insulating ability as well. These composite shutters stop the sun's rays and cooler breezes to allow your media room to maintain a comfortable temperature level. They may prohibit around 30 degrees of heat transfer, saving you money on utility bills.
#2 Upgrade Your Media Room's Audio Experience With A Couple Minor Projects
Once you fix the illumination in your Hartford media room, switch to the acoustics. Drywall is sufficient for walls in media rooms, but your basement's concrete devastates the clarity of sound. The most straightforward way to prevent reverberation in your lower ground media room is by putting up sound absorbing panels. In the event you have to soundproof your media room, look for easy-to-install sound barrier or absorption materials. You can then proceed with window treatments, like shutters, to control outside noise.
#3 Invest In The Right Equipment
The appropriate equipment will deliver superior acoustics as well. Start with your surround sound system. Numerous people select devices with Wi-Fi capability since you don't have to trouble yourself with concealing wires.
You'll also want an amazing television. LCD and LED options have brilliant pictures, but 4k units generally have greater contrast ratios and wider viewing angles. You might also choose a projector-style setup for that movie theater experience in your media room. No matter what video option you select, mount it high on the wall for the best viewing angle.
#4 Choose Comfy Seating Options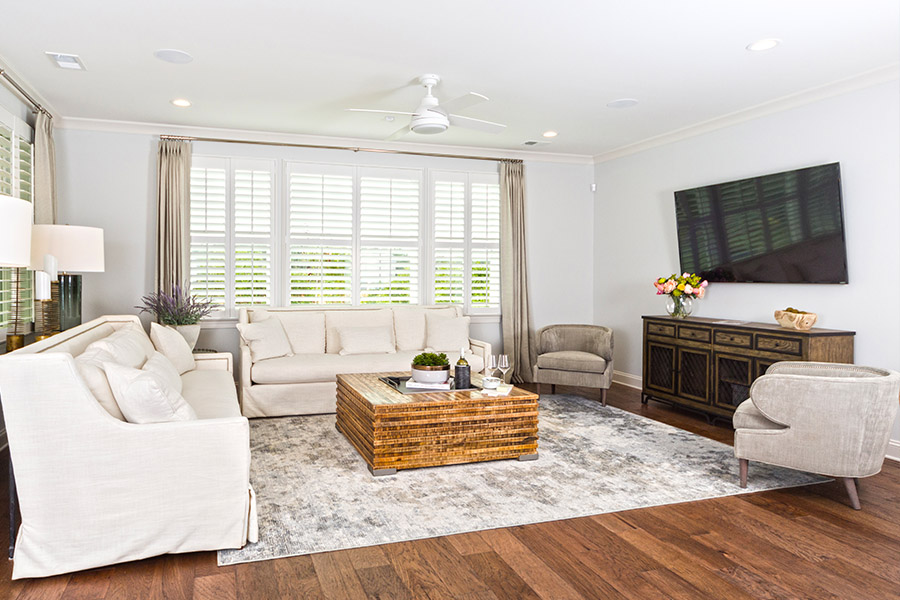 It's hard to enjoy your favorite show without a comfortable place to sit. If you want a complete home theater, try to find specialized seating with reclining capability and incorporated drink holders. If you plan on gaming, get a few gamer chairs. A large, comfy sectional is a good idea too. And don't forget some super-soft blankets and pillows for extra cozy binge watching nights.
#5 Set The Tone With Your Favorite Theme
Customize however you desire when creating a media room in Hartford. Are you a fan of Old Hollywood? Do you want to feel like you're inside a real theater? Framed movie posters, an antique style popcorn machine, and bold colors will promote the purpose of your media room.
For a more understated appearance, focus on a favorite color combination. Warm colors with real wood accents and complementary Ovation® shutters will have your media room feeling cozy. You might also make it light and welcoming with more neutral colors and Polywood shutters.
Talk To Sunburst About Window Treatments For Your Media Room In Hartford
The experts at Sunburst Shutters Connecticut will help you select the best window treatments for your media room. At your free on-site appointment, we're happy to present how sample products look in your home before you make your final selection. Schedule yours today by calling 860-266-5459 or by submitting the form on this page.