How To Choose A Waterproof Window Treatment in Hartford
Anywhere you live, from Hartford to hundreds of miles away, your space has a common need with every other house in the U.S.: waterproof window treatments. Whatever the age of your home, the outdoor climate, or the size of your family living with you, you'll still have the same moisture-heavy rooms: the bathrooms, kitchen, and laundry room.
Like most homeowners know, not all window coverings are created equal as to how capably they handle humidity and moisture. To simplify it, we'll break down successful each window treatment is at handling wetness and let you know which ones work best in the rooms that experience the most moisture.
Level 1: Window Treatments That Won't Handle Moisture
Experienced Hartford homeowners are aware that some materials just won't mix with water. Go ahead and ask the owner of a hardwood floor what moisture can do to lumber. Solid wood does not get along with moisture, as it makes wood swell and bow, which can make wood window treatments inoperable. Constant exposure to water might also turn the natural cavities of the lumber into the perfect home for bacteria. For these reasons, solid wood window treatments should probably not be chosen for rooms that may get damp such as the kitchen.
Fabric window treatments don't work great with moisture either. Even though the damage to fabric may not be as intense or obvious to the naked eye, prolonged and frequent exposure to water can impair the weave of most fabrics, and that can lead to color fading and fabric thinning.
Level 2: Water-resistant Window Treatments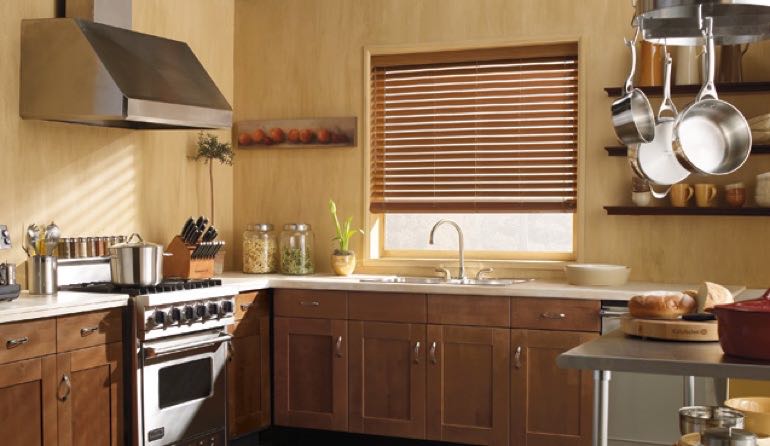 Albeit not quite waterproof, window treatments in this classification won't be in danger of lasting damage when used in humid rooms. This group of window treatments includes just about anything designated "faux wood," like
faux wood blinds
. Faux wood blinds can give you the beauty of a natural wood window treatment, adding contemporary fashion to your bathroom and much-needed privacy, without the worry that homeowners might get whenever the room gets too steamy.
Alternative window treatments that can resist the majority of damage from water are metal blinds. Although they don't offer the same design appeal and coverage that different window treatments do, aluminum blinds are adaptable. They can be found in a huge variety of hues, with available cut out possibilities and privacy features, while simultaneously being well-suited to those possible problem rooms. Remember though that blinds that feature cords or fabric bands usually aren't optimal for moisture-rich spaces.
Level 3: Entirely Waterproof Window Treatments
This is what you've waited for: the window treatment that completely ignores humidity, dampness, liquid and more like no other product. Sunburst Shutters Connecticut is happy to offer one of the few completely waterproof window treatments available in our
Polywood® plantation shutters
. A fantastic window treatment for the bathroom or laundry room, Polywood shutters are made from a formulated composite that is completely unaffected to the debilitating effects of dampness, no matter if they're coming from inside your house or from outdoors.
Don't believe it? We've seen the extent to which Polywood can handle wear, and we're so sure of its durability that every installation is backed with our Lifetime Limited Warranty. In fact, Polywood shutters could be hosed down and they'd still perform fantastically, with no problems.
Make Your Windows Ready For Anything, Hartford
If your home is in a coastal or humid area, or if you need more effective window treatments for the bathroom, a waterproof window treatment ought to be a top concern. Let Sunburst Shutters Connecticut lend a hand by calling
860-266-5459
to set up your free in-home design consultation. And to receive more ideas for those rooms and beyond, peruse our in-depth
Ultimate Room Guide
to discover the perfect window treatments for every room in your Hartford home!