Ideal Window Treatments For A Home Library In Hartford
The window treatments in your home library in Hartford might seem like unimportant, but they really do provide a lot to help you create the perfect area for relaxing with a good book. The smartest options allow you to control light, privacy, and even the comfort within the room! In the event your home library window treatments fall short of those standards, we recommend durable faux-wood shutters. Here's why it makes sense to change.
Select From A Sunlit And Cheery Or A Slightly Darker And More Secluded Home Library With Faux-wood Plantation Shutters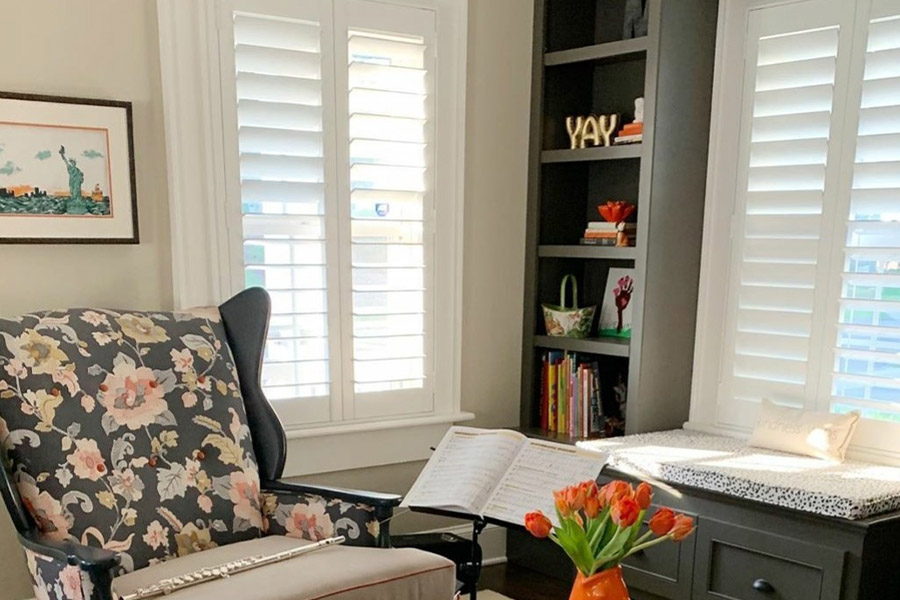 Each home library should have ample sunlight for reading. But sometimes an overflow of light makes your eyes strain. And how about when you would like a moody environment for settling in to a a tense thriller? The best window treatments for home libraries in Hartford give you the opportunity to simply adjust from full sunlight and a darkened room.
Louvered shutters are easy to manipulate. You just swing open the panels for complete sunlight when electric lights aren't enough for reading or if you would like to save on your utility costs. If the sunlight is overwhelming, keep the panels closed but adjust the louvers for filtered light. You might even shift the adjustable slats to divert sun glare from your or e-reader and achieve just the right balance of light to eliminate eye discomfort. And when you want a dimmer, more private home library, the non-transparent shutter components come together tightly for a completely darkened room.
Block Outside Distractions And Noise When You Read With Interior Shutters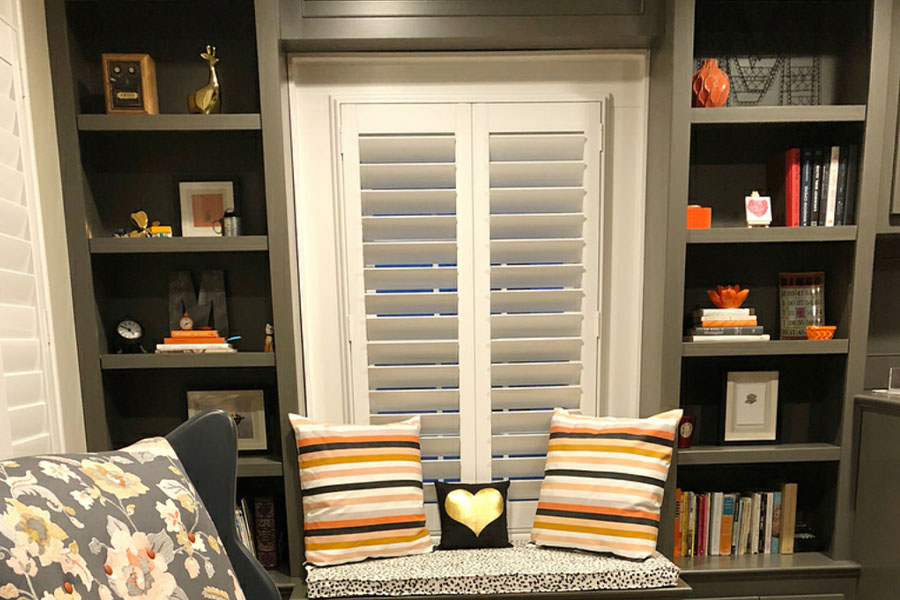 When the time comes to relax with that new mystery you've been itching to read, the one thing you don't want is a disturbance from beyond your walls. Polywood shutters can curb these annoyances when you want a calm and quiet environment. All you have to do is shut the panels and louvers if you don't want to catch glimpses of dog walkers or Hartford vehicles in your field of vision as you try to enjoy your book. Your closed shutters will keep everyone from seeing you in your secluded space too. And dissimilar to many other products, you can adjust your shutter louvers to let in a little light to read by while obstructing sightlines from outside your home.
Sturdy Polywood shutters are also great at suppressing excessive exterior noise when you compare them to flimsier products like shades. Did your neighbor turn on a leaf blower the moment you had reached the the moment of truth in your novel? Close your shutters for some solitude while reading.
Prevent Unwanted Drafts With Polywood's Insulating Capabilities
Along with providing solutions for light and noise, your Polywood shutters keep out drafts that may make you uncomfortable while you relax in your favorite reading chair.
Polywood shutters have greater energy efficiency
than every other product. Both frigid drafts and warm UV rays aren't able to get through their manufactured wood. And their precision production stops outside air from slipping past borders. Interior shutters can prevent close to 30 degrees of temperature transfer from your library windows to safeguard your prized reading materials from sunlight and air while keeping you comfortable.
Sunburst Shutters Connecticut Offers The Top Window Treatments For Your Home Library In Hartford
Create the ideal reading environment with durable, faux-wood shutters from Sunburst. We'll take shutter samples to your location to demonstrate how they look in your room. We'll then craft your window treatments to the exact measurements of your job. Start today by calling 860-266-5459 or complete the form below to request your complimentary on-site appointment.