The Top Nursery Window Treatment Ideas In Hartford
If you're expecting a child in Hartford, you want to have every element of your bundle of joy's nursery just right -- and that includes the window treatments. But in advance of selecting the right window covering, remember that safety and functionality are essential. Infants may pull down drapes or become tangled in the pull cords of blinds. These treatments won't block exterior light and unwanted air flow for the best sleeping environment either. Instead, choose safety-focused, energy-efficient louvered shutters or cellular shades as window treatments for your nursery in Hartford.
Plantation Shutters Will Keep Your Nursery Stylish, Safe, And Cozy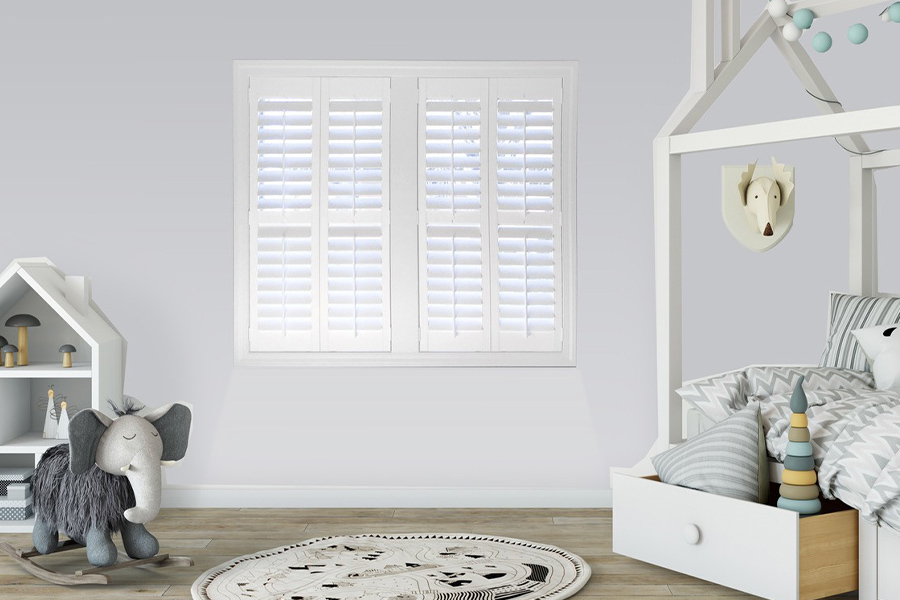 Interior shutters maybe aren't your top option for nursery window treatment ideas in Hartford, but they ought to be! These superior window treatments look stunning in every area. Their solid panels create an appealing accompaniment to the fluffier features usually associated with a child's nursery. You can utilize
white faux wood Polywood® shutters
in rooms with vivid or lighter-toned color choices. Stained hardwood shutters might work better when your nursery has nature-themed elements or you wish to coordinate with existing wood trim. And if you update the design as your baby gets bigger, your shutters will still be appealing with the space's refreshed feel.
Plantation shutters utilize a particular construction that makes them ideal for little ones' quarters. In lieu of hanging curtains or pull cords for a loved one to pull on or get ensnared by, plantation shutters utilize solid panels with rows of louvers incorporated into a frame that surrounds the window. They even wipe off with ease when they get those inevitable smears from small fingers.
Shutter louvers and panels give you several methods for adjusting exterior light and privacy in your child's space too. Pull back the panels for a sunny spot to play or secure them and rotate the louvers out to let in partial sunlight and redirect it off the place where your child is playing. Then shut the panels and slats to keep out virtually all light for naps and bedtime.
Shut louvered shutters stop cool breezes too. Air can't get past real wood and faux wood like it can through cloth window treatments. And premium Ovation® and Polywood shutters utilize industry leading manufacturing techniques to diminish openings where air slips through. Polywood shutters also feature the best in weather protection that causes them to be the most energy-smart nursery window treatments in Hartford and makes certain your room remains cozy for a peaceful slumber.
Cellular Shades Lend Added Efficiency and Versatility To Nursery Windows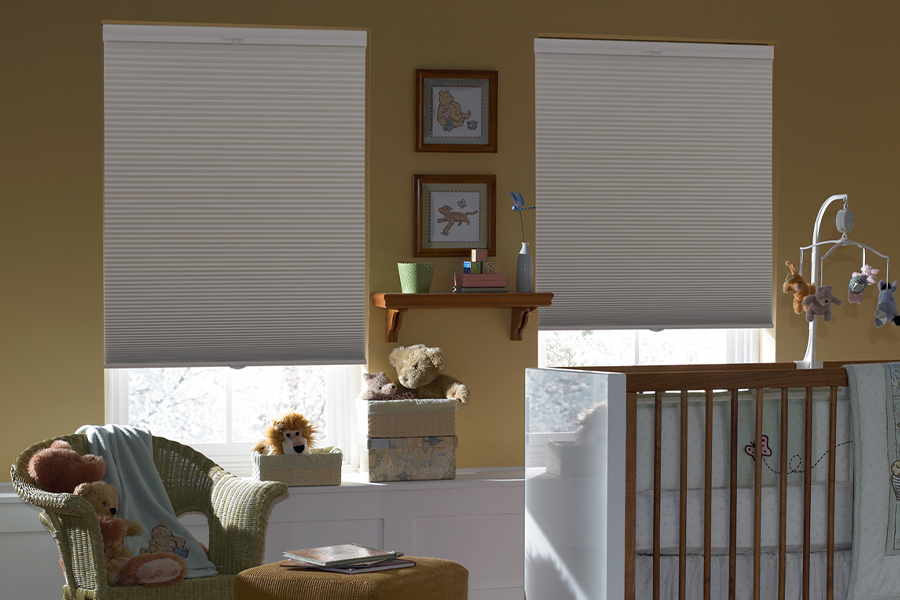 In the event you prefer a softer texture for your nursery window treatments,
try cellular shades.
These window shades are offered in many different colors, patterns, and materials for you to choose from. You'll even come across different types including top-down/bottom-up shades that offer more flexibility with outside light and privacy or non-corded shades that a child can't get tangled in.
The greatest advantage of cellular shades is their superior efficiency. Their unique design features little compartments that confine air coming through your windows before it enters the nursery. They help keep the the space at a consistent temperature and energy bills down.
Need More Nursery Window Treatment Ideas In Hartford? Speak With Sunburst
Regardless of whether you need nursery window treatment ideas in Hartford or options for a separate room of the house, Sunburst Shutters Connecticut is here to help. We supply a variety of window coverings that make your residence more attractive and efficient. Call us at 860-266-5459 or complete the form below to schedule a complimentary on-site demonstration and find amazing window treatments in Hartford.