What Window Treatments To Choose For Your Hartford Custom-built Home
If you're making selections for a custom home in Hartford, you want to get every detail right, and that includes the window treatments. There are many reasons why plantation shutters are a leading choice in window treatments for custom homes in Hartford. Their versatility and beauty complement any interior and give you unparalleled control of natural light. With these qualities you have the ability to produce a welcoming environment and highlight the enticing features of your custom home.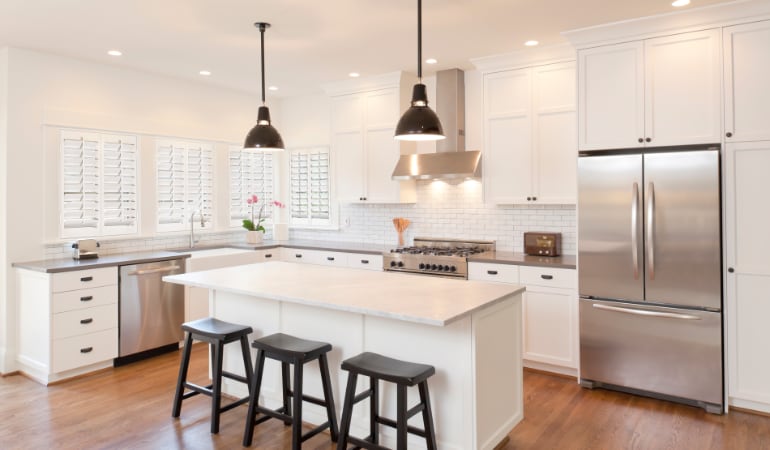 In What Ways Do Plantation Shutters Elevate a Custom Home?
When you want to draw attention to your custom home, consider window treatments that residents in Hartford install to enliven their interiors. Plantation shutters work wonderfully with homes of various styles. They are a point of emphasis and catch the gaze of onlookers who are used to seeing outdated drapes and metal blinds. Their practical but sophisticated aesthetic requires no extra dressing to provide a dazzling dynamic and leave a lasting impression on family and friends.
Plantation shutters are a smart finish for a custom home. The sharp design and adaptable color options work well with every decor, so you can confidently advise the home builder to put them in every space and not have to worry how they will look in your furnished home.
Plantation shutters are custom-fitted for specialty windows and more standard sizes, so you are able to install them in any location and avoid the inconvenience of implementing numerous window treatment options. That's one less detail to figure out during the home building process!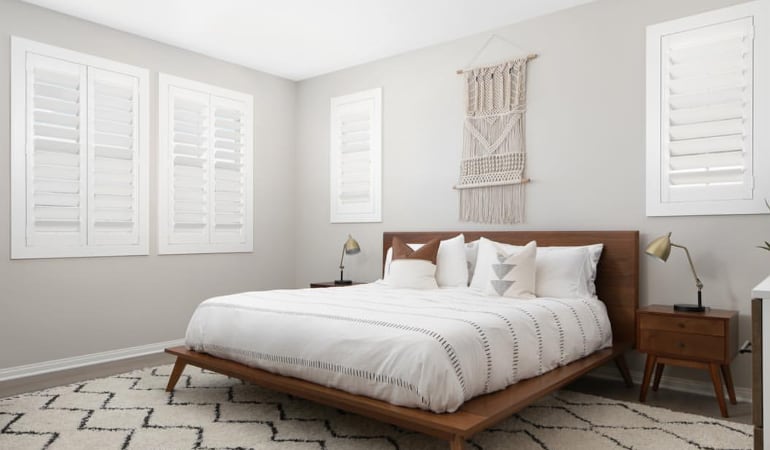 How Do Plantation Shutters Let Homeowners Direct Sunlight?
Everyone loves the appearance of a well-lit home. Even though you're sure to have captivating electric lights to illuminate your custom home, natural light has unique qualities that give an area a larger appearance or boost its overall character.
However, the sun's light is hard to predict. Over the course of a day, the quantity of light coming through your windows changes, and you have to alter your window treatments to filter the light accordingly. When trying to find window treatments for custom homes in Hartford, people show a preference for manufactured Polywood® and natural wood plantation shutters that let them manage the levels of sunlight a room gets.
Gently move the tilt rod to partially close the shutter louvers during hours when the sun is in full force to provide a space a softer glow and increase the opening to make things brighter when the sun has shifted to a new location. You might also swing back the shutters from the hinges for full sunlight to create an impression of being outdoors and fasten them again for a cozier feeling.
Modifying the position of the slats also gives you the chance to shift the sun's rays. By tilting the shutter louvers up or down, you can cast light even the darkest corners to make your space seem bigger. You can also redirect unwanted glare away from people's eyes and reflective surfaces without lowering the louvers and completely losing the light. With a single touch, you can manage the quantity and the direction of daylight that shines in any room for everyone's comfort.
Get The Top Window Treatments For Your Hartford Custom Home
Show your new home in its full glory with the endless appeal of plantation shutters by Sunburst Shutters. We are your source for elegant window treatments that Hartford homeowners want for their custom-built homes. Contact us at 860-266-5459 or complete our simple form to get started with a complimentary in-home design consultation.